Why We Still Need To Talk About Plastic Pollution
Happy World Oceans Day!
The ocean is a pretty amazing place, and with about 71% of the earth's surface being covered in water, it's also one of the most important ones. It provides livelihoods, food, and water and is one of the most biodiverse habitats you can find – but it needs protecting. 
At this point, you'd struggle to find someone who hasn't heard "save the turtles" when complaining about paper straws, or another person who has cut down on their fish intake after watching Blue Planet. 
But after the existence of the Great Pacific Garbage Patch – a collection of marine debris spanning the ocean between Japan and the U.S. states of Hawaii and California – was widely acknowledged, it seems like the reality of our plastic problem is finally starting to hit home.  And it's not the only garbage patch, it's simply the biggest. When you consider the huge scale of these garbage patches, and that "Oceanographers and ecologists recently discovered that about 70% of marine debris actually sinks to the bottom of the ocean"*, the reality of our pollution starts to hit home. 
This World Oceans Day, we need to make changes. But don't let eco-anxiety take over just yet, as there are still things we can do. 
Reduce
The key to changing the amount of plastic we consume is to reduce the amount of single-use plastic we use in the first place. Granted, this isn't always possible and it requires more effort and planning, but if we stop buying single-use plastic, we can directly minimise the amount that ends up polluting our oceans and harming marine life. 
Reuse
And we aren't talking about pristine glass jars in an aesthetically pleasing kitchen (though there is nothing wrong with this). For the same reason we love swapping our clothes, reusing what you already own creates ZERO waste – so get on it! Repurpose ice cream pots to store your leftovers in. Grab old butter tubs and put your veggies in them. It's all about getting creative and reusing what you already have. 
Put Our Money Where Our Mouth Is
When it comes to big companies making change, nothing speaks to them quite like money. If we, as consumers, avoid products packaged in this plastic and instead place our money into sustainable and biodegradable alternatives, companies will start to make changes.
If You Can, Speak Out
We can do as much as we can as an individual, but some things require a bigger change.  Bring it up to your local MPs, challenge them and ask what your government is doing about plastic pollution. Question them on what processes they use to recycle or reuse plastic, instead of just disposing of it. If you have the opportunity to do so, be vocal about this issue.
Take Care of Your Beaches
If you're lucky enough to live near the ocean, or visit every once in a while, then make sure you leave no trace. Pick up all your litter and dispose of it responsibly. If you fancy getting more hands-on, then why not take part in a beach clean? 
If you're unsure where to start and need some help, then we'd highly recommend checking out Surfers Against Sewage, an environmental charity that focuses on tackling plastic pollution!
Glossary:
Marine Debris: Litter that has found its way into the ocean, seas, and other large bodies of water
Ghost Nets: Fishing nets that have been either purposely discarded or accidentally lost, drifting through the ocean, entangling whales, seals, and turtles. 
Sources:
*https://www.nationalgeographic.org/encyclopedia/great-pacific-garbage-patch/
https://theoceancleanup.com/great-pacific-garbage-patch/
https://www.nationalgeographic.org/article/great-pacific-garbage-patch-isnt-what-you-think/?utm_source=BibblioRCM_Row
Bandi on ITV This Morning!
"The Future of Fashion"
ITV This Morning, on Bandi App
Here's the lowdown
As most of you have probably heard, Love Island has announced that they will be partnering with eBay this year.
Why is this a big deal?
Love Island, a show watched by millions all over the UK, is well known for Islanders changing their outfits every night, all funded by fast-fashion brands. They then usually go on to partner with fast fashion brands once they have left the villa, promoting fast fashion to a huge audience. Which, in case you hadn't guessed, is not good for the planet.
That's why this partnership with eBay is HUGE. This year, they've chosen eBay as their fashion partner to dress the islanders in secondhand and preloved clothing! Love Island is a hotspot for fashion trends, with searches for items like "marble dress" skyrocketing up to 127% after last year's winner, Millie Court, wore one. By choosing to dress the islanders in preloved clothes, it represents a huge shift, bringing slow fashion to the mainstream and proving that it's fashionable.
What's it got to do with Bandi?
This has to be up there when it comes to exciting things happening. Thanks to Love Islands' new partnership, This Morning showed off amazing secondhand outfits found on eBay, Depop, Vinted, Thrift+ and Bandi!! The model showed off the cutest heels and handbag; both swapped on Bandi! We're so honoured and proud to be shown alongside these amazing secondhand platforms, and we can't wait to see where we grow from here!
Watch us on This Morning!
How To Handle Eco-Anxiety
"Over the last two to three years, reported cases of eco-anxiety have risen dramatically across the world, especially as the threat of climate change and its environmental impacts have become more regularly reported in the media and online."*
But what is it?
Eco-Anxiety can be identified in a few different ways.
It can be when the impacts of climate change, global ecological disaster or a specific extreme weather event become a constant and overwhelming worry that you can't seem to work past. Or, it can manifest through huge amounts of guilt concerning the environmental impact of your actions and the feeling of helplessness that we aren't doing enough.
Does any of this sound familiar? Then you might be experiencing eco-anxiety. The good thing is, you're not alone.
Eco-Anxiety can get us all down, wondering if we are making a difference and worrying about the future of our beautiful planet. Take a deep breath, let the eco-anxiety wash over you and check out these tips for managing the worries when they come.
Don't Bottle It Up
Keeping your stress to yourself will end up just stressing you out more! So get talking. Chat to your friends and family about how you're feeling, or even find like-minded people on social media! Talking is one of the simplest ways to ease your mind, and you never know; it might help you come up with plans for the future.
Celebrate The Victories
It can be easy to feel totally doom and gloom, but remind yourself that there are wins out there. No matter how big or small, celebrating wins for the planet will help soothe the anxieties as you realise good things are happening. For example, coral reefs off the coast of Fiji that were devastated by a cyclone in 2016, are now once more teeming with fish, marine life and beautiful coral.**
Educate Yourself
This may seem counterintuitive, but hear us out. By reading up on the big issues, you'll be able to see where you can make a direct impact. Some things will take more time and bigger changes, so focus on what you can do now and go do it. Whether this is cutting out single-use plastic, attending a protest or changing the way you consume fashion (Hello, Bandi), no change is too small.
Finally, remember to take a deep breath and remind yourself that you are doing the best you can.
Sources:
*https://www.ecoanxiety.com/what-is-eco-anxiety/
**https://www.goodgoodgood.co/articles/climate-change-good-news-roundup
The Bandi Bag
Sustainable fashion just got a whole lot more circular.
No matter how you find your clothes, there's one thing that seems unavoidable. The waste.
This is even more prevalent when it comes to shopping online, as with each new haul comes a whole load of packaging that, more often than not, can't be recycled or is thrown away after only one use.
Plastic packaging is estimated to make up 26% of the total volume of plastics created a year, and 72% of this is thrown away. That is a whole lot of pollution that the team at Bandi decided to do something about.
We love keeping our fashion circular (we are all about swapping clothes, after all), but your swaps need to be packaged safely before finding their way to their new home. We wanted to do this without the waste.
What is The Bandi Bag?
The Bandi Bag is our answer to all the pollution problems that come with traditional postage bags. Made up of entirely recycled materials (recycled vinyl, recycled canvas and 60% upcycled materials for the zipper and label pocket, to be precise), our bag is everything you need to feel good about posting. Our postage bag will last you for over 200 swaps, and considering a 100 pack of polythene bags costs £20, you're saving money and the planet!
But that's not all it is. The Bandi Bag is a 2-in-1 postage bag and tote bag so that you can rep Bandi every day in tote form. The zip will function for the tote, so you know your belongings will be safer than in a traditional tote.
How do I use it?
Use our Bandi Bag to post your swaps to other users on our platform and join the circular swapping community. Once a Bandi Bag is purchased, an icon will automatically be added to your profile so you know who you can swap your bags with.
From there, you simply bundle up your swaps, zip the bag up, head to your local Hermes Parcelshop and slide the postage label into the pocket on the front of the bag. Quick 'n' easy, and you've just helped cut out single-use plastic.
You can still swap clothes with non-Bandi Bag users, though we recommend you only use the bag for postage when swapping with another Bandi bag user. Don't feel shy to ask if they are using their bag in chat!
What happens at the end of life?
You can send your Bandi bag to be repaired or upcycled, giving them a new lease of life and closing the circular loop that is Bandi.
I want one!
We know you can't wait to get your hands on our bag (we can barely contain our own excitement), and they are finally here! Head over to the Bandi App and get yours now!
All you have to do is:
Head to your profile in-app!
Go into the settings (the three lines in the top right-hand corner)
Click "The Bandi Bag"
Make your purchase!
What are you waiting for?
Reuseolutions: The Breakdown
We can't quite believe that Reuseolutions are over, but we aren't ready to say goodbye to them just yet. Co-Founders Frankie and Nicole, as well as members of the Bandi team, have decided to keep the Reuseolution party going by pledging not to buy any new clothes this year.
Bye-bye Reuseolutions, hello No New 2022.
This is your sign to join us, but in case you were still on the fence, Co-Founder Frankie decided to crunch some numbers to show just how much your choices this month have affected the planet. It can be hard to visualise quite how much of a difference you've made by taking part in Bandi's Reuseolutions, so we won't bore you with all the maths (Sorry, Frankie), but we will try to break it down for you!
Here are the main points that you need to know.
How many clothes did we save?
Each month, roughly five clothing items are purchased by the average person, and with the 268 people who took part in Bandi's Reuseolutions, we can work out (268 x 5) how many pieces of clothing we saved by swapping instead of buying new; which is a whopping 1340 items of clothing! That number on its own is pretty impressive, but we aren't stopping there!
How do we relate this to carbon emissions?
On average, the fashion industry produces 80 billion pieces of clothing and 1.2 billion tonnes of carbon emissions each year. Using these statistics, we worked out that 0.015 tonnes of carbon emissions are produced for each item of clothing made.
1.2 billion ÷ 80 billion = 0.015!
How much carbon did we save?
Now we know how many items of clothing we saved by swapping, AND the carbon emissions for each item, all we have to do is multiply them!
1340 x 0.015 tonnes = 20.1 tonnes of carbon emissions saved!
Now, let's make it visual.
We're going to use the two things people think about when it comes to being eco-friendly. Trees and coffee! (Think of all those coffee cups)
By looking at the amount of carbon emissions a single tree will offset (0.16 tonnes) and the carbon footprint of 1 litre of water(0.298 grams), Frankie managed to do some very clever maths using the amount of emissions we saved. We worked out that by all of you taking part in Bandi's Reuseolutions, we've saved:
120 Trees & 3100 cups of coffee!
Those are some numbers to brag about, and we're so proud of you! When you look at numbers like that from only a single month of everyone doing Reuseolutions, can you imagine the difference we could make in an entire year? We can, and it makes the future look a little more Bandified.
If you've got a head for numbers, then check out Frankie's research HERE!
The 5 Love Languages as Swappers
Ah, Valentine's Day. Whether you've got a big date planned, a night in with the girls or a meal with friends, it's always a fun one to celebrate.
But, as usual with big holidays, they come with a lot of waste that is easily avoided. So many people jump straight to big stores to find every heart branded thing they can get their hands on, which are often generic and find their way into the waste more often than not once Valentine's Day is over. Did you know that around 25 million Valentine's Day cards are sent in the UK every year, equivalent to more than 8,000 trees! Let's look for better ways to show we care this year, and there's no better way than learning their love language and using it to shower them with affection, their way, without waste.
But first, what are love languages?
Love languages are how we express and experience love and affection, and they vary from person to person. Understanding your partners love language can ensure that they feel loved and appreciated, and if your partner is a Bandi lover and secondhand fan, then don't worry, we've got you. Below you'll find everything you need to know to make your eco-conscious partner feel the love this Valentine's Day, according to their love language.
You can thank us later.
Physical Touch🤲
They aren't interested in expensive clothes or big events; the Physical Touch Swapper needs to feel close to you. This might seem like a head-scratcher at first, but you've got to think outside the box. Is there a jumper of yours that they always gravitate to? A piece of jewellery they can't help but admire? These pieces are the key. Letting them borrow these makes them feel close to you, knowing there's a piece of you with them that they've been trusted to care for. For that extra touch, spray a bit of your perfume or aftershave on the item to make it personal.
Gift Giving🎁
Everyone loves receiving gifts, but it holds that extra special meaning for the Gift Giving Swapper. Whether this is by grabbing that belt in a charity shop because you know they wanted one just like it or swapping one of your items on Bandi for a dress you know they'll love, they like knowing that you've thought about them! No matter how you decide to gift to them, take the extra time to write a little note or wrap them lovingly to make this swapper feel special.
Words of Affirmation💬
In a fast-fashion world, we all slip up sometimes when it comes to slow fashion. That's why for the Words of Affirmation Swapper, hearing words of encouragement is exactly what they need. Did they slip up and buy new? Well, they're doing the best they can. They want to start using Bandi but aren't sure where to start? You can be on hand to guide them and tell them they're doing great. Why not introduce them to your favourite slow fashion ambassadors/influencers, spreading the word on how clothes swapping benefits not only them but the planet, ensuring they don't feel alone on this journey and cheering them on every step of the way.
Quality Time👯‍♀️
For the Quality Time swapper, nothing beats in-person secondhand activities. They love fashion, they love the planet, and they love spending time with you, so why not combine all three? Host a swap party, take them secondhand shopping, or why not spend the day showing them how to use Bandi and setting up an account? You can go through all of these together, picking out clothes for each other. You could even switch phones and make swaps for each other!
Acts of Service🧵
Sometimes, our favourite pieces of clothes get damaged. It happens. But for the Acts of Service Swapper, this is where you can truly show your appreciation. Take the load off their shoulders; whether it's sewing a button back onto their favourite shirt or hemming a dress just in time for that big event, it's good to have their back. And if sewings not your forte? Well, YouTube is jam-packed full of beginner tutorials that you can follow, or why not try Apps like Sojo, getting their pieces tailored and fixed for them. Now, their wardrobe will be full of signs you appreciate them.
All you have to do now is take our tips, along with your partners love language, to shower them with affection, in their way, through Valentine's Day and beyond.
No New 22
It's hard to believe that January is over, and our Reuseolutions have come to an end with it. With over 250 of you making your pledge not to buy new, we are truly amazed at what this community of ours can do.
Now, we want to take it that step further.
Co-Founders Nicole and Frankie are pledging not to buy any new clothes for an entire year, choosing instead to swap, restyle and buy secondhand.
Now is your chance to join them
The average person spends £43.88 per month on new clothes and shoes, totalling a whopping £526.50 a year! The UK alone consumes 1.1 million tonnes of clothing per year, and it's a figure that has steadily been on the rise over the years.
With the success of our Reuseolutions, we want to carry on the trend of making meaningful purchases and swaps with the environment in mind. Being sustainable doesn't need to be expensive or complicated, but don't just take it from us! If you are up-to-date with all the reuseolution goss, then you'll know we hosted weekly Instagram lives with industry pros and sustainable extraordinaires who shared all their tips and tricks for how to look good and stay as eco-friendly as possible.
Here's what we learnt.
Nicole & Frankie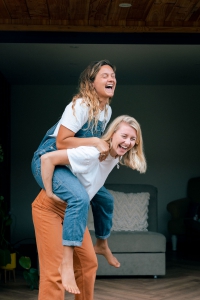 Check, check and check again
Do you already have something similar in your wardrobe? Do you genuinely like this item, or is it just a trend?
Fast Fashion for inspiration, not for purchasing
Use Sites like ASOS as a mood board, but then look around to see if you can find that item secondhand or on Bandi. You can also save items to wishlists, then wait a month to see if you still like them or was it trendy.
Try before you buy
Especially when shopping secondhand or vintage. Sizing can be awkward, so it's good to be sure that it will fit! If buying online, don't be afraid to ask for measurements as this will ensure items don't sit unworn because they don't fit.
Be the change
"Around 350,000 tonnes of clothes, with an estimated value of £140 million, go to landfills every year in the UK." By taking part in our Reusesolutions and hopefully continuing for the year, you can directly affect that number!
Get fixing!
How many clothing items have you thrown out just because they no longer fit or are slightly damaged? It's time to change that. Brush up on your sewing skills, or take it to the tailors to give your clothes that extra lease of life.
✨Manifest✨
All you need to do is be patient, and manifest that perfect pair of jeans on Bandi. They are out there, we just need to get them in the right wardrobes.
Nick (@manaboutstyle.nick)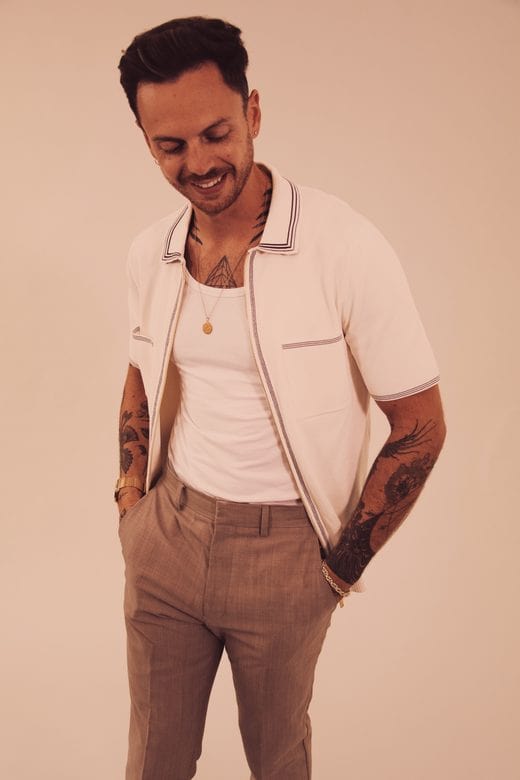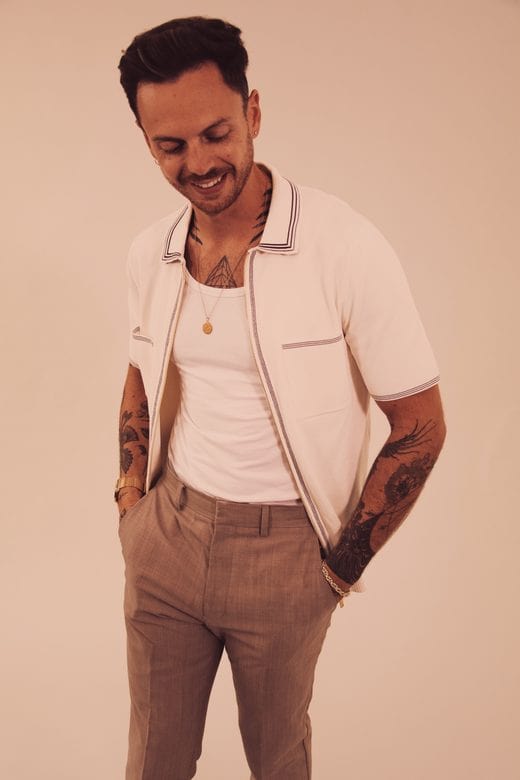 Nick Howard-Lanes, ManAboutStyle, is a professional Personal Stylist for men, providing a positive change through sustainable styling, leading to greater self-success.
Cleaning is key
Did you know that how you wash your clothes plays a massive part in making them last? Nick recommends washing your clothes inside out, at 30 degrees for no more than 30 mins and then investing in a hand steamer to finish them off! Using a hand steamer rejuvenates your clothes between washes and kills bacteria meaning you can wash your clothes less!
Embrace imperfections!
They are a part of the clothes journey and story, so get it fixed or embrace it, don't throw it out! It's okay to have damages. (He tells us whilst flashing a hole in his favourite shirt)
Don't shop often; shop savvy
Ensure that the item is a classic when you are splashing the cash. Build a capsule collection of essential pieces around which you can build your wardrobe. You want these to be items that will still be fashionable in the years to come and potentially be passed down when the time comes!
Be ruthless
You have to be ruthless when clearing out. Ask yourself will you wear it, or will it take up space? If you haven't worn the item in 1/2 years, it's time to go. If this is a struggle, think of the next person who will love it and wear it more than you are.
Get a stylist!
Visiting charity and vintage shops can be overwhelming. Avoid choice paralysis by getting a stylist or a friend who knows what they're doing to make the search easier. They will guide you to pick out pieces you'll love.
Know your style, and how to restyle
Are you preppy? y2k? 70's retro? Knowing your style will help you not follow trends and participate in fast fashion, as you will know what works for you and what doesn't.
Then, when you put on a new item, ask yourself: How can I change this? Can I cuff it, tuck it, unbutton it? What have I got that will go with it? Be mindful of your fashion choices.
Dom (@b1tcheswhobuytoomuch)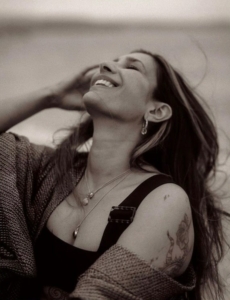 Dom Salunke or  @b1tcheswhobuytoomuch is, in her own words, a recovered but very much still closeted emo kid with a love for vintage and secondhand clothing, preloved designer handbags and combining the aforementioned to make over the top outfits for her everyday dog walks.
When she's not working her day job in care, she hosts secondhand clothing events in Cornwall and try and make everyone as enthusiastic about vintage clothing as she is!
Create your own rules
This has to work for YOU. If there's something you utterly adore, then bend the rules! It's okay to want things, so don't be too hard on yourself! (Dom allowed herself to buy something on her birthday!)
Take it slow
Take a moment to consider if you want the item or are just stuck in a cycle of overconsumption.
Support each other!
Doing challenges like Bandi's Reuseoltions with friends and other eco-conscious people is the best thing. You can encourage and keep each other going if you start to struggle!
Even if you break, you can carry on!
It's not a be-all or end-all kind of thing! Everyone slips up, and there's no reason you shouldn't try again and keep going!
In the words of Nick,
"You put on clothes 365 days a year start, so start telling a story with your clothes."
Let's make that story one where you are a fashion hero, ready to take on No New 22!
Reuseolutions: How to Form a Habit in 66 Days
It can take up to 66 days to form a habit, and by the time you finish your Reuseolutions at the end of January, you'll already be halfway to creating a sweet secondhand shopping habit.
Whether this has been a long time coming, or you have decided to try something new, we can all start to flag. It's a tricky relationship to navigate between you, your clothes and why you buy them as there are so many reasons we all purchase firsthand clothes. They are valid. But this month, we challenge you to take a step back and consider what you are buying and find better alternatives.
This is why we have created Bandi's Reuseolutions, and we are jumping on to show our unwavering support and share everything we have been doing to help keep us on track through our Reuseolutions.
We've got you, and your clothes.
YOUR CLOTHES
Swap through Bandi
Are we the loophole?
If you haven't been able to scratch that clothes buying itch since January started, and it's becoming unbearable, then it's time to get swapping. By downloading Bandi and swapping your clothes through our app, you can still have new clothes without breaking your Reuseolution pledge and help the planet in the process. Sounds like a win-win to us.
Check what you already have
Sometimes, we impulse buy things without checking our wardrobes first. We've all done it. That moment you bring home a new white shirt, only to see that another one was hanging in your wardrobe. You can insist they are different, but if you had taken stock of what you already own, you might have thought twice about buying new.
So let's be mindful and use our eyes before we buy.
Fix It Up
Do you have an item you never wear because it just doesn't fit quite right? Maybe there's a small hole or tear right in the most awkward place. Well, Reuseolutions give you the perfect excuse to sort it out! Check out some tutorials, then get fixing! If it's quite a big job, then why not visit your local tailor for that professional touch.
One in, one out
If you are an all or nothing kind of person, why not try this method?
For every new item that you add to your wardrobe, you take one away. This prevents you from buying things you don't need and stuffing your wardrobe till you can barely close the doors. Each item you choose to get rid of can be sold on, donated or uploaded to Bandi to swap with others!
Restyle
That item you love but have no idea how to wear? It's time to change that. Find all those pieces that need a lil' restyle and just have fun with it. Use Instagram and Pinterest for inspiration and mix n match out what you already own! In the safety of your room, no outfit is too wacky or "out there", so really flex your styling muscles and see if you can make it work (We know you can).
YOU
Unfollow and Unsubscribe
It's hard enough to change a habit without being bombarded by emails, notifications and Instagram posts flashing the next big sale or must-have item. Take the time to go through your inbox and unsubscribe from marketing emails that act as temptation. Then unfollow accounts on social media that promote fast fashion and overconsumption. Lastly, if you are the type of person to have endless shopping apps on your phone, it might be time to delete them. If you aren't ready for that, try turning off your notifications to limit their access to your headspace.
Change your mindset
This may sound easy, but it can take time to achieve. One of the best steps you can take towards not buying new is by changing your mindset to look second hand as your first option. The majority of the time, you will be able to find what you want without the environmental cost and not only that, but your wallet will thank you! It can be hard to build a habit, but just wait until you've got it down and you are glowing in all your green garms.
Be kind to yourself
Lastly, but absolutely not least, be kind to yourself if you slip up. We are all only humans trying to do our best for the planet, and you are doing amazing, sweetie.
New Year's Reuseolutions
Every year, we make new year's resolutions, and they are often forgotten about by the second week of January (we've all done it), with our good intentions left to the wayside.
This year, we want to try something different. We're pledging to not buy any new clothes for the month of January. No big sales, no impulse buying and no fast fashion.
How you can take part:
Step 1: Download Bandi 
Step 2: Create a profile
Step 3: Make the pledge in-app in the explore page when you see it
Step 4: Nominate a friend on social by screenshotting the graphic below and tag them!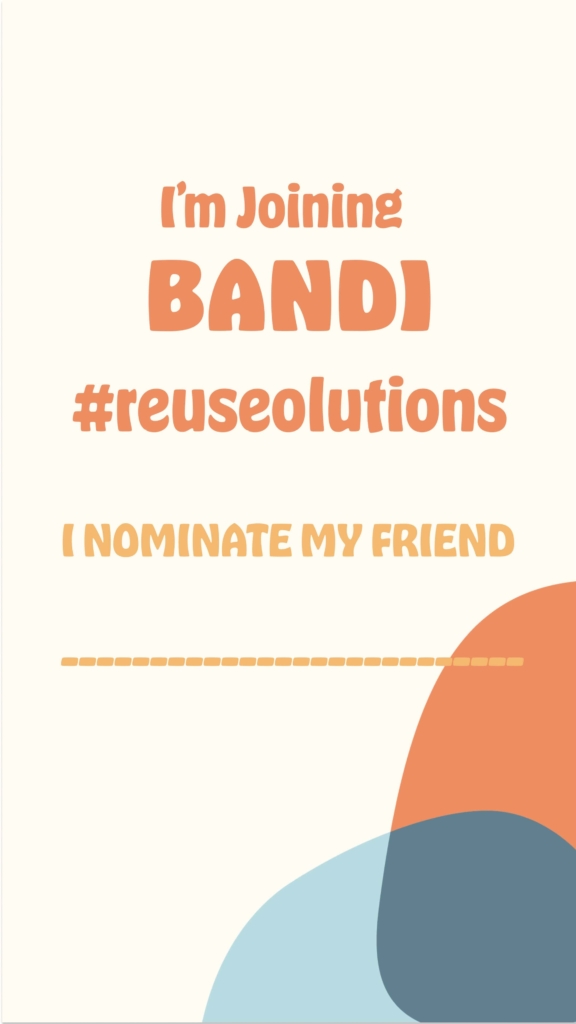 Reasons to pledge:
Each year, January sales drive up the rates of consumerism with people impulse buying clothes and items that they don't need, simply because they are on sale at irresistible prices.
Well, we have had enough. We are breaking up with fast fashion and leaving it behind in 2021 like that toxic ex you can't seem to shake. We want to prove that it's possible to avoid buying new clothes, and we would love for you to join our founders, Frankie and Nicole, as well as the Bandi team, on their journey through January to have a "not so new" new year.
We will be signing a pledge not to buy new, and we want you to join us and challenge yourself this year to help the planet and get a better wardrobe in the process 😉
"In the UK, clothing has the fourth largest environmental impact after housing, transport and food. More than half of fast-fashion items are thrown away in less than a year"
That statistic is enough to make even the most loyal fast fashion shoppers pause for thought, so we are going right to the source, and by not buying new, choosing to end the cycle that fast fashion perpetuates that you need the next micro-trend. Guess what? You don't!
Of course, we understand that sometimes you don't have everything you need in your wardrobe. That's why downloading Bandi is the perfect way to ensure you stick to that Reuseolution by switching out your preloved items for someone else's!
We will be with you every step of the way and updating you on our progress, so make sure you are following us on all the socials and on our website to see what we've been up to, as well as sharing some tips and tricks to keep you going through the month.
Join us by downloading Bandi, and switch out buying new for clothes swapping 😉
We can't wait for you to make the pledge and join us on this journey to a more sustainable new year.
It's Beginning to Look a Lot Like Swapmas
Christmas is one of the most widely celebrated holidays in the UK, and safe to say, it's the one with the most spice. 
There are so many things that come to mind when you think of Christmas, but rarely does anyone think of the impact that the festive season can have on our lovely planet. 
Every Christmas, the amount of waste produced in the U.K. increases 30 per cent,*. Considering the ever-growing waste dumps and floating rubbish islands, we can't afford this dramatic increase.
The Christmas we know and love is full of plastic and waste on a massive scale, so now more than ever, it's crucial to think twice about how you spend your time and money this December. Luckily for you, Bandi has come up with our favourite eco-friendly Christmas ideas (as well as an exclusive Bandi App event) that will make this festive season a hell of a lot more green.
The Great Christmas Jumper Swap
"Environmental group Hubbub warned that an estimated 12 million Christmas sweaters were set to be snapped up this year by Britons — despite 65 million already hanging in U.K. wardrobes."* 
That figure is scary enough on its own, but when you consider that 1 in 3 over 35's buy a new Christmas jumper every year, we are faced with a huge problem, but Bandi has a solution.
If you're up to date with all the latest Bandi goss, then you'll be more than ready to take part. But if this is your first time, allow us to explain.
Bandi will be hosting a HUGE Christmas jumper swap on the app. We aim to get as many Christmas jumpers uploaded onto Bandi as possible so that you can swap your way to your next festive fave before Christmas this year.
We want to see what you've got! Whether it's a bad pun (no such thing), a classic festive print or something filled with fairy lights, this is your sign to get them on Bandi App. 
How to take part: 
Download Bandi App (Of course)

Upload your preloved Christmas jumpers. And add #christmasjumperswap to your bio.

Match with other swappers.

Get Swapping!

Flash your finds on Instagram! (Don't forget to tag us @bandi_app and #christmasjumperswap)
Wrapping Paper
Are you the sort of person who has everything wrapped at least two weeks before Christmas, or the panic wrapper who decided tin foil was perfectly acceptable? Well, you may not realise this, but your choice of wrapping has an impact. All that fun, glittery paper? Hate to break it to you, but that's a whole load of plastic that can't be recycled. Make sure you are looking for papers that are marked as recyclable, or even better, try your hand at Furoshiki, the Japanese art of using cloth instead of paper to wrap your goods. The furoshiki itself can either be a part of the gift or reused time and time again whenever you need to wrap something. 
Christmas Dinner.
We know it's iconic. That image of a table full of food, turkey ready to be carved and Pigs in Blankets slathered in gravy, ready to be devoured. The classic problem with this is, of course, the meat. Research suggests we throw away two million turkeys worth of food as most of us don't know what to do with what's left of the turkey.**
If you are looking to lessen your environmental impact this Christmas, why not try a vegetarian dinner? If that's a hard pass, then look at buying from your local butcher or farmer to ensure high-quality meat with a minimal carbon footprint.
Another thing to consider is how much food will we actually eat? It's tempting to mound your plate high, eyes bigger than your belly, but being mindful of what you can eat will prevent waste. In the case of leftovers, you can either freeze them to keep the festive vibes going or munch your way through on Boxing Day!
Christmas Outfits
Some people like to dress up, others have decided it's a pyjama day, but either way, there's no reason to run to fast fashion brands to buy yourself something new. There are so many alternatives for you to have a sustainable festive look, but just in case you needed a reminder…
Get swapping! Now is the time to download Bandi App and swap your way to your next festive look.

Buy second hand. Still can't find what you're looking for? Then open up sites like Vinted and Depop, or head to your local charity shop to have a rummage without the carbon footprint.

Repeat your outfits! Who said you couldn't wear the glittery dress for Christmas Day and New Year's Eve? NO ONE. These are just made up rules that get you to buy more things. If you love that dress, it's time to make like Lizzie Maguire and become an outfit repeater. (It's cool, trust us.)
So there you have it. Our top tips to have a very Bandified Christmas.
But we want to hear from you! What will you be doing to have a greener Christmas this year? Or do you have something to share that we've missed out? Either way, let us know through Instagram or email us as we love to hear from you!